For Car Rental, an App is Not a Magic Potion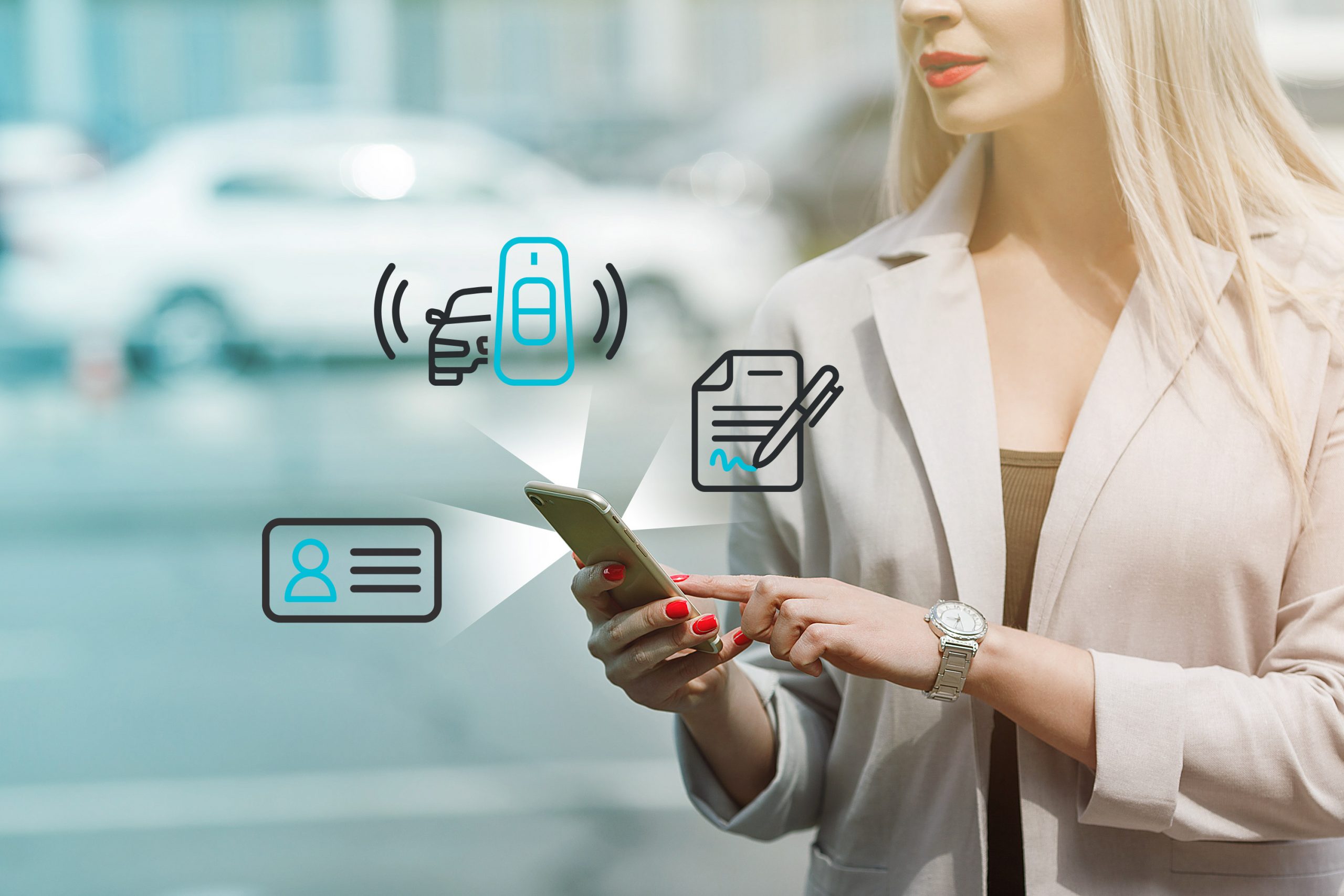 A rental process where the customer can sit behind the wheel of a rental car and drive off without any face-to-face interaction with the car rental provider would surely benefit both customers and vehicle operators. All the activities necessary for starting and ending a rental — making a booking, exchanging required personal and payment data, signing agreements, accessing the vehicle, and returning the car — can be done using a smartphone.
It is convenient and saves the customer from a content-switch, which often happens when, for example, a French-speaking customer wants to rent a car in Sweden. Once they reach the rental desk, the currency format and language they used while booking online vanish and only English and Swedish are left. It might not be a problem for many customers, but it is definitely not as convenient as renting in your native tongue with familiar currency and date format.
Not as Smart as it Seems
To provide such a smooth service to every traveller, service providers need to put in effort. It seems that the easiest way is to offer customers contactless rentals is through an app. However, a market-ready app with decent industry-specific functionality costs approximately a quarter of a million dollars. The cost includes development, design, launching and maintenance.
Despite the costs, quite a race is going on when it comes to launching one's own branded app, one that promises an effortless, frictionless, contactless, desk-less and keyless experience. When taking a closer look, the reality is not as bright as a button.
Very few rental providers can offer an end-to-end digital experience for their customers. Premium brand Sixt stands out and also dozens of newcomers from around the globe. The latter are operating on a small scale but have been fully mobile from the very start.
For example, Silvercar is one of the first to apply a customer-centric and innovative approach to car rental in the US. Several other OEMs also have their own car-sharing initiatives, like Volkswagen's WeShare and joint venture SHARE NOW. In Europe, many smaller actors could be named, such as Virtuo and GreenMobility.
When it comes to meeting the demands of customers, these rental providers are certainly on the right track. Their apps have great design and appealing features. But even more so, they have taken a customer-centric approach which makes them appealing to users. Now, how about the business perspective and profitability? Can their business models turn a profit and succeed in the global market?
Roughly estimated, an average rental company would have to sell 700,000 rental days to reach the break-even point of their initial investment in the app. That is more than 100,000 smart rentals. When also including unavoidable costs for app maintenance, the profit volume of the app has to be calculated in millions of rental days.
Most rental apps do aim for a wide user base. But 20 to 30 years of practical experience in traditional car rental has proven that most customers rent a car through distribution channels and it is essential to have the cars in use as much as possible. Reaching millions of rental days is hardly possible when not using those channels and only renting regionally to local customers.
The masses will not use an app that offers the services of a single brand, because their needs vary, and people like to have a choice. If it weren't the case, players like rentalcars.com or expedia.com would not exist. Nevertheless, the persistence in trying business models with limited partnerships and no data exchange with distribution channels is remarkable.
Platforms are the Future
Trends in e-commerce, which inevitably includes the car rental industry, show the ascendency of platforms. As the whole world of mobility is changing, people are shifting from vehicle ownership to vehicle usage. According to Frost & Sullivan, the number of vehicles connected to the mobility platforms is estimated to be 12 million by 2025 with 40 million users around the globe.
New generation mobility platforms like Turo and Getaround have shown tremendous growth in numbers. Both Turo and Getaround have been valued at more than $1 billion by private investors and have both raised $300 million in the past two years.
While Getaround has had some drawbacks due to COVID-19, Turo claims to have 450,000 vehicles available for its user base of more than 14 million. Their services are well displayed, available with only one login and one payment. Furthermore, they enable customers to access the car with a mobile phone. Providing their customers with excellent user experience, these newcomers are winning the market and attracting more and more customers.
When looking at who their users are, we see that today's dominant segment of customers is made up of millennials. Millennials, however, will not agree with less than fully digitized services. They take the availability of services in their smartphones as naturally as breathing because accessibility to different technologies is getting easier and easier by the day. For example, the car keys will be replaced with a technology like Phone-as-a-Key (PaaK).
So what are the choices for car rental companies who are struggling their way in covid-ragged circumstances? In a situation where the coming of contactless and mobile solutions seem to be inevitable?
Necessary IoT Steps
In this digitalization race, any vehicle operator, including traditional car rental companies, should apply the Internet of Things (IoT) principles namely the Internet of Vehicles (IoV). That is, taking a step towards a connected fleet by making cars smart with any telematics provider and enabling cloud access.
After that, they have fulfilled the basics that are needed to let the platforms take care of everything else — marketing, sales, and customer care. This way the rental companies can focus on what they do best — handle the fleet and provide availability ― and distributors can channel all their efforts to e-commerce and customer satisfaction, which is their area of expertise.
The key to success is the openness to partnerships and a willingness to collaborate. When keeping the connectivity open to all stakeholders in the ecosystem, it is possible to reach international customers. For example, when a U.S. citizen goes on a vacation in Europe, they can use the same car rental app they use when travelling in their home country. The brands represented in the app may not be the same but the experience and conformity come with the familiar interface.
For a starting point, it is also possible to provide contactless rental even if you do not have everything digitally covered. For example, Rabbit Rentals uses a simple low-tech solution, unlocking the car doors with a keypad, that has opened up new revenue streams for them. While using this solution is more reasonable than burning money on an app investment which on its own, without solid e-marketing competence (and also budget, no doubt), is hardly a profitable initiative, it is not sustainable in the long run. What you need is both smart solutions and distribution.
Open Solutions Will Take Over
The truth is that vehicle operators cannot overlook open solutions. Platform-based contactless rental distribution is a reality coming true during the next few years. Such platforms are already available and looking for partners. In Europe, Vulog's mobility platform enables fleet and rental digitalization plus P2P platform readiness and Wunder Mobility's API's and extension framework enables the creation of numerous micro-mobility, vehicle sharing and ride-hailing services.
For those vehicle operators who aim for global customers, Titanium Mobility by Car Rental Gateway Ltd is the option to take. Titanium Mobility is a customizable app platform for contactless rental journeys which supports on-demand, scheduled or subscription-based rental products and comes with multi-option contactless car pickup. This mobility platform is open to distribution channels and provides end users with a consistent UX and the possibility to choose between currencies and languages most commonly used around the globe.
So don't make an app that just offers a bumpy rental experience or might, in the worst-case scenario, just lead you to bankruptcy. Make your fleet connected and open to technical solutions so that distributors can offer your contactless rental deals globally. In the end, the customer is the one who decides, whether they are willing to pay for a semi-intelligent mongrel or an all-in digital experience.
First published in Auto Rental News on 26 October 2020